Xiamen Takam Machinery Co., Ltd
Name:Xiamen Takam Machinery Co., Ltd
Position:International Sales Manager
E-Mail:info@takam.com.cn
TEL:+86-5927896828
Address:Tongji North Street No260, Tong'an District, Xiamen, China 361100
DMC-6045 Customized Moving Column Machine Center With Heavy Load
DMC-6045 Customized Moving Column Machine Center With Heavy Load
Model NO. DMC-6045
Accept Min order:No
Product Description
The Takam DMC-Series is a customized moving column series machine
1)Moving column machine center, work table is stationed in place;
a.Machine work table can load high capacity,suitable for larger product;
b. With larger work loading space, customer can easily load work piece.
c. Machine accuracy will not be damaged due to heavy work piece weight.
d. Can easily install clamping system, can machine many work pieces at one time. Decrease machine stop tume and decrease production cost.
2)X axis uses high accuracy rack and pinion system, ensure the accuracy and stability performance of the machine.
3)Standard with auto indexign five face milling head, so the work piece can finish machining in one time, decrease the time for changing work piece, ensure the accuracy for machining parts.
4)With moving controlling station, easy access for the operator to follow the progress of the machining. Easy for maintence and operation.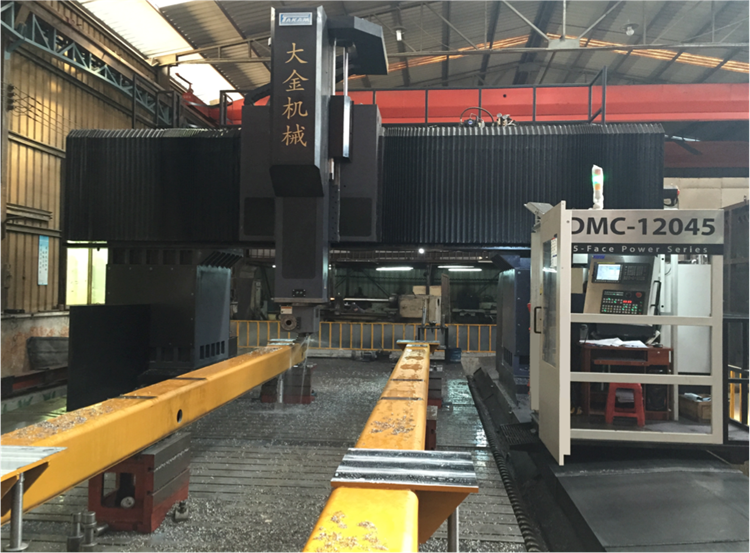 model
subject

DMC-6045

Travel

X-axis Travel (mm)

6,000

Y-axis Travel (mm)

4,500

Z-axis Travel (mm)

1,500

Spindle Nose to Worktable Surface (mm)

300-1,800

Spindle Center to Stand Column (mm)

400(650)

The Spacing Between theTwo Columns (mm)

4,000

Worktable

Worktable Surface to Beam Height (mm)

2,100

Worktable Size (mm)

6,000*3,000

T-slot (mm)

28*200*11

Max Load on Worktable (kg/m)

5,000

Spindle

Spindle Speed (rpm)

40-3,500

Spindle Taper

BT50

Spindle Motor (kw)

26/840 NM

Axis Motor (kw)

6*4/6/6

Spindle Transmission Ratio

1:1,4:1

Standard Spindle

Gear

Accuracy

Positioning ± (mm)

0.1

Repeatability ± (mm)

±0.015/500

Drive type

X-axis

X-axis Rack

Y-axis

1:4

Z-axis

1:4

Z-axis Counter Weight Mode

Hydraulic+Nitrogen

Feedrate

Cutting Speed (mm/min)

1-5,000

X/Y/Z Rapid Traverse (m/min)

9/10/10

Ball Screw Diamenter/Pitch (mm)

Y:80/16 Z:63/10

Line(hard) Track Width/Number of Tracks

X:65mm/4 Y:65mm/3 Z:Box Way Type

Other

Air Required (kgf/cm2)

6.5

Machine Weight (T)

70

Machine Height (mm)

7,000

Floor Space (mm2)

10,000*9,000

Z Axis Box Way Type (mm)